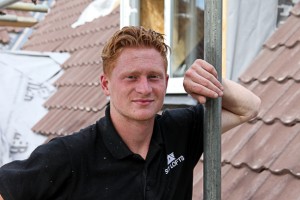 How did you first get into loft conversions?
I first started in the loft conversion industry when I left college around four years ago. Its something that I love doing and I have always been interested in construction since a very young age. I think it comes down to the fact that no two days are the same when converting lofts, we work with lots of different people on lots of different types of properties in different areas. One day we can be in Farnborough building a Velux loft conversion and a few weeks later, we'll be in Guildford or Fleet building an L-shaped dormer, meeting new customers along the way.
Tell us a bit more about what you do at SkyLofts?
At SkyLofts I work closely with Daniel who is my loft team leader. Together we ensure that our loft conversions are built efficiently, in a timely manner and to the highest standards possible whilst making sure all the customers needs and questions are dealt with correctly along the way.
What are the most common problems or challenges you encounter in your line of work?
The biggest problem we face at SkyLofts has to be the weather, particularly through the winter period. Some years it will be the snow or sleet but this year we have had to face the high winds and rain. The weather is never a real building issue as long as we are prepared for it, problems are there to be dealt with so it never hinders our build progress too much.
What's the best part of your job?
For me individually the best part of working at SkyLofts is looking at the finished product and thinking how it was only 3-4 weeks ago that this loft was a wasted and uninhabitable space, now it's a clean and usable space which ties in well with the existing property. I also enjoy seeing a satisfied customer at the end of their loft conversion. I have seen customers gain a large master bedroom with en-suite, a nursery or a home office and it was not that long ago that they did not realise the potential their loft held.
What's your favourite way to unwind?
Unwinding for me always involves some sort of physical activities weather its boxing, snowboarding and in the summer golf on a regular basis.
If you are considering a loft conversion in Surrey, Hampshire or South West London then please contact SkyLofts on 01252 500 872 or email info@skylofts.co.uk to discuss your loft potential.