Our All-Inclusive Loft Conversion Services
At SkyLofts, we understand how important your decision is to choose the right company. One that you feel comfortable working with. We place great importance, not only on the quality of our loft conversions once completed, but equally the journey you experience with us when undergoing your loft conversion and the relationship between client and company from start to finish.
SkyLofts have adopted this experience with a friendly and professional approach. That will leave you feeling relaxed and content with your decision to use SkyLofts to carry out your loft conversion.
SkyLofts provide all our customers with a professional, but personal approach when it comes to our design and build service. These professional bodies include professional architectural designers, qualified RICS structural engineers, surveyors, loft estimators, project managers and specialist trade people and loft teams. They all work together to provide our customers with a model that makes converting your loft as simple and as stress-free as possible.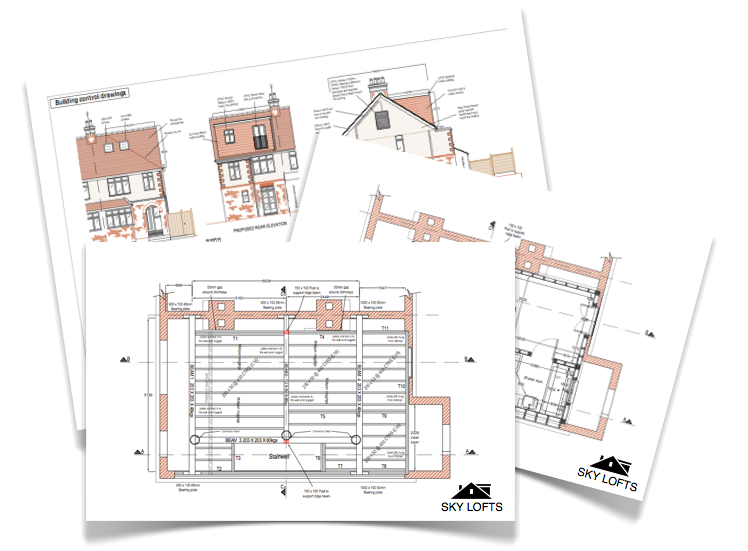 With You Every Step of The Way
With SkyLofts, we work closely with you every step of the way. As the professionals, we offer you a fully itemised quotation that is free and with no obligation. Right at the start of your loft enquiry process, even with difficult items that are un-priceable without working drawings (such as steel beams and sizes etc.) we ensure you have a provisional sum allowance. We price these items without any working drawings using our local building experience and loft knowledge. So we can offer you a service, a design and a fixed price that suits your requirements right from from the very start. Throughout every step of the design process, we work very closely with you, involving you at every step to make sure that the loft is designed, managed and built for the original agreed price that was discussed right at the very start of our working relationship.
SkyLofts are very proud of our internal streamline systems. We build every loft conversion through our single step by step process between the customer, the SkyLofts design team and our professional loft building teams.
Our Highly Skilled Professionals
SkyLofts are proud to provide you with highly skilled and professional loft teams. Who will look after you on a one to one basis throughout your conversion process.
Every detail that is required to achieve your dream loft, however small, will be managed on-site by one of our loft leaders who have all built many lofts.
Working with a small team of qualified professionals, we can offer you a fully managed service, with a personal touch from the initial introduction meeting right through to the handover process at the end of the project.
We are proud to offer a fully itemised, easy to understand loft quotation. So that no matter what your financial situation, we can comfortably work through the numbers to endeavour to produce a package that is right for you and that suits your preferred requirements and budget.
SkyLofts offer many different services, that we believe are all key to achieving your dream loft.
These services include:
   Space planning & design
   Integrated MDF storage units & bespoke cabinetry
   Built-in wardrobes & drawer systems 
   Electrical Accessories & Home Automation 
   Electrical & lighting design options
   Architectural detailing including bespoke doors, windows & timber work.
   Staircase manufactures that match the existing properties staircase.
   Ironmongery detailing & matching service