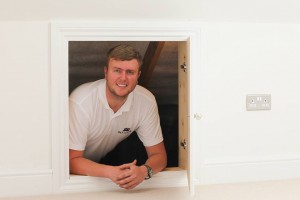 Tell us a bit more about what you do at SkyLofts?
I am the director and founder of SkyLofts, I have had a passion for the building industry since I can remember and have always enjoyed being involved in loft conversions so starting up my own company was inevitable. Every day at SkyLofts is very different so I really do not have a regular day to day routine, which makes running SkyLofts much more exciting as you never know what is round the corner. One minute I can be enjoying a coffee with a customer and discussing their loft potential, the next I can be onsite coordinating a timber delivery. I am extremely passionate about our customer service and will usually focus on managing our customers and coming up with new ideas for ways to better serve our loft customers. I will always believe that our customer service sets us aside from other loft companies.
What's happening/anything exciting for SkyLofts in 2014?
We have so much planned for 2014, starting with building a loft in early January which will be a great way to start the year. We have lots of exciting advertising opportunities planned in the local area and will continue to support local charities. I almost forgot that the most exciting thing for 2014 will be making more customers happy with their new loft conversion.    
What are the most common problems or challenges you encounter in your line of work?
This is a tricky one, most of the problems I have encountered along the way with SkyLofts I have now put in place systems to avoid those problems going forward.  For the moment I would say it has to be timing, I spend a lot of time liaising with our customers and onsite managers to find times that suit everyone so that we can keep our projects running to tight schedules.
What's the best part of your job?
I love the fact that no one day is ever the same, I enjoy coming up with new ideas that will help grow Skylofts as a loft conversion company in the Surrey, Hampshire and South West London area and the best thing of all is making our customers realize that they can obtain at least an extra bedroom and bathroom without eating into their garden through a loft conversion.
What's your favourite way to unwind?
I am a huge Formula One fan so can always be found following that over a weekend when it is on, I love cooking and like any other man I do enjoy a few beers down the pub on a Friday night but more often than not it turns to work talk but I love what I do so it still counts as unwinding. 
If you are considering a loft conversion in Surrey, Hampshire or South West London then please contact SkyLofts on 01252 500 872 or email info@skylofts.co.uk to discuss your loft potential and if you really want you can contact the lovely Stuart directly on 07778 110 900.