Here at SkyLofts when we have completed a customer's loft conversion we enjoy going back a few weeks later to see how they are settling into their new space. Below we caught up with David and Gillian Edwards in Fleet, Hampshire to discuss their loft conversion
What made you decide on a loft conversion?
With a small garden and two young children we needed more space, but did not want to make the garden any smaller. Our friends had had a loft conversion in Farnborough a couple of years ago so we knew that was the route we wanted to take.
What steps did you take when looking for a loft conversion company?
Our main priority was to select a loft conversion company that was not only reputable but someone that we knew we could also trust. After our initial survey meeting with Stuart at Skylofts (who we can now safely say is fantastic) we promptly received our quote and then Stuart suggested that we see a previous loft conversion that Dan and his team had built, once there we asked the previous company about their experience with SkyLofts and they spoke highly of Stuart and of Dan's work, so we decided to proceed with SkyLofts.
What set us apart from our competitors?
We had three loft conversion companies quote for us at the beginning, Stuart was the only one that promptly got our quote back to us and arranged for us to see a previous customer, he also answered all the questions both myself and Gillian had with ease. Stuart is very professional and we had no doubt that we could put our trust in him.
Did your project manager keep you involved throughout your loft conversion? 
Stuart constantly kept us in the loop with regular contact and progress reports, it put our mind at ease that everything was always on track.
What did you find best about SkyLofts customer care?
Everything, it all went smoothly. Dan co-ordinated a great build with his team and Stuart kept us in the loop all the way. We even received a loft conversion moving in gift which was lovely.
What are you using your loft conversion for?
We have now moved up into the loft and made that the master bedroom with built in storage and en-suite. Our old bedroom has now been turned into a playroom for the children.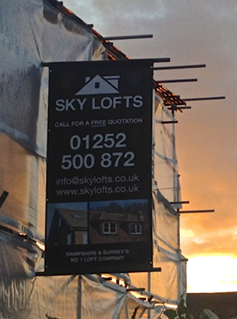 If you are considering a loft conversion in Surrey, Hampshire or South West London then please contact SkyLofts on 01252 500 872 or email info@skylofts.co.uk to help move your loft dream in the right direction.