Here at SkyLofts when we have completed a customer's loft conversion we enjoy going back a few weeks later to see how they are settling into their new space. Below we caught up with Richard and Alison Corste in Guildford to discuss their new loft conversion.
What made you decide on a loft conversion?
With a new baby on the way and Finley's ever growing toy collection our house felt like it was getting smaller and smaller, we love the area we live in and the schools are fantastic so we really wanted to stay put, that's when we decided on a loft conversion.
What steps did you take when looking for a loft conversion company?
It was very important to us that we chose a reputable loft conversion company, we knew we would be spending quite a bit of money so we wanted to ensure we could trust the company that would be converting our loft. We heard SkyLofts advert on 96.4 Eagle Radio and arranged an initial meeting with Stuart, as well as two other loft conversion companies.
What set us apart from our competitors?
Stuart was very quick at responding back to us and we did ask a lot of questions! He made us feel very relaxed in his company and the knowledge he has in terms of planning permission, building regulations and visualizing the best way to make the most of our space in the loft was fantastic. The itemized quote he produced gave us piece of mind that we knew how much everything would cost, the other companies we had round lacked the confidence and knowledge we expected.
Did your project manager keep you involved throughout your loft conversion? 
Stuart was only ever a phone call away and he constantly kept us updated throughout the whole process, everyone we met throughout the conversion was fantastic. He was always happy to discuss any issues we had and promptly came back with solutions keeping the whole project on track timing wise, which is exactly what we needed with the pending due date of baby!
What are you using your loft conversion for?
We now have our own bedroom upstairs with an en-suite and nursery for the baby. Stuarts attention for detailed meant that the space was used wisely and we are both thrilled with the built in wardrobes that Dan made in the bedroom and nursery. We really would not hesitate to recommended SkyLofts to anyone that is considering a loft conversion.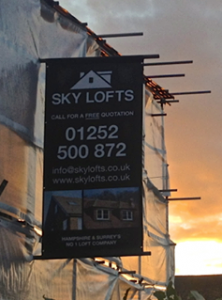 If you are considering a loft conversion in Surrey, Hampshire or South West London then please contact SkyLofts on 01252 500 872 via our contact page or email info@skylofts.co.uk to help move your loft dream in the right direction.