Having a bathroom in your loft conversions compliments your loft bedroom perfectly and have become an increasingly popular way to add value to your home in recent years.  However, it can sometimes be a difficult process to install a shower enclosure in a loft bathroom because of sloping angles and limited ceiling heights.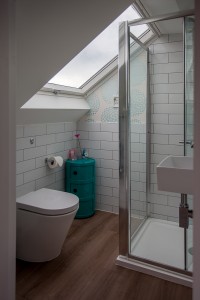 A few years ago bespoke shower doors were a costly item, the good news is that now plenty of manufacturers make these bespoke doors, so prices are actually quite reasonable.
Here at SkyLofts we know several suppliers that offer you bespoke doors from as little as a few hundred pounds to the more luxury doors at the other end of the scale.
The average shower enclosure measures around 2 metres in height including the tray, so naturally if you have a lot of sloping ceilings in the corners of your loft this limits the places in which you can situate your shower enclosure. Many people compromise by opting for a small enclosure and losing the chance of using all the wasted space under the eaves.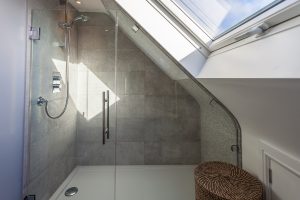 This problem can be easily overcome by installing a bespoke shower enclosure that has been manufactured to meet the precise angles and height of your ceiling. The end result is a beautiful shower enclosure that actually makes the most out of the space in your bathroom and is individually tailored to your room.
If you are looking to have your loft converted and are considering installing a shower  in the Surrey, Hampshire and South West London area then please contact SkyLofts on 01252 500 872 or email info@skylofts.co.uk to discuss your options.