What is a hip to gable? A hip to gable loft conversion is where the side roof is removed off of the side wall. This maximises the internal head hight.
So what is a hipped Roof?
A hipped roof has three slopped sides (see below)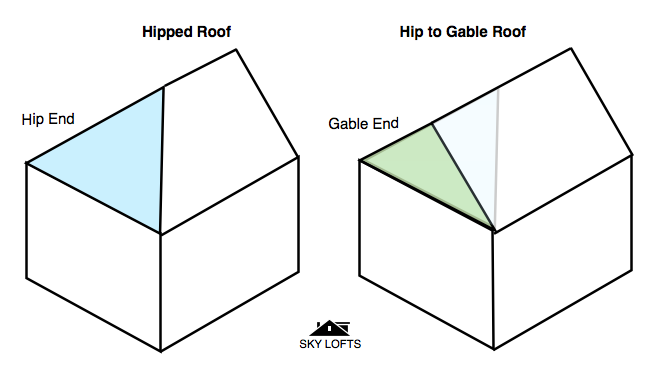 This type of roof is found on many end of terraced, semi-detached and detached properties.
This type of conversion requires the builder to remove the hipped part of the roof at the early stages of the process. So the floor steels can be installed and the gable can be erected. Some teams like to build the gable end up over the existing hip to make the side of the property weather tight. Then remove the hip from inside the new loft. But this all depends on the time of year the loft is being built.The gable also allows the floor area within the loft to be extended to the total footprint area.
Alternative Is A Side Dormer Conversion
The alternative option to building a hip to gable loft conversion would be a side dormer. However, this creates a limited amount of extra space which is normally used to gain access to the loft with the staircase.
Building a hip to gable loft conversion is a better use of space compared to a side dormer. If its possible to do a hip to gable with your local authority, we would highly recommend this approach.
Hip to gable loft conversions are more complicated to construct than a standard rear dormer or mansard. Hip to gables are slightly more expensive and typically cost 20% more than a standard rear dormer conversion.
The most important factor for undertaking a hip to gable loft conversion is the huge change in the roofline. This will allow you to achieve a massive amount of additional floor space, maximising your loft conversion potential.
The exterior finish can either be tile hung with tiles or slates to match your existing roof, finished in block and painted render or finished in pebble dash if the side of the property is already pebble dashed. The final choice will be dependent on you and discussed on-site to which of these finishes will look most in keeping with your property.
Incorporated in most gable end walls will be a double glazed window to match the existing property style. This provides natural light to either the loft area or the new loft stairwell depending on the final design.
To find out more contact SkyLofts via our contact page or email info@skylofts.co.uk