What is a rear mansard? Rear mansards are a great way of converting your loft. Especially when certain planning restrictions prevent you from doing a rear dormer. Or if you simply just prefer the look of a rear mansard over a rear dormer.
Shown in this diagram is the basic shape of a rear mansard. They have square, vertical sides often built in either brickwork or tile-hung. They have a slopped facing side that slopes bottom in (normally angled inwards between 70˚ and 74˚) to soften the look. We always mention that both dormers and mansards have flat roofs on their tops. But they are always built with a 1:50 fall to the side to prevent any standing water pooling on top of your flat roof.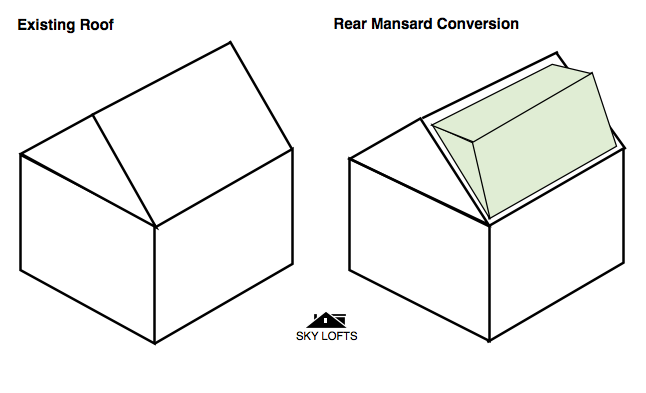 Mansards can be built in all different shapes and sizes. From small mansard windows, right through to full-width mansards that are built right across the back of the property.
The bigger the mansard is built, the more floor space and headroom is achieved on the inside. The only difference with a mansard is that the slope across the face of the mansard will make the construction look softer from the outside. It will, however, sacrifice some head height compared to a dormer that is built vertical off of the back wall.
Even though we always try and promote a dormer over a mansard, there are circumstances when a mansard is the only feasible option. Situations such as planning permissions, conservation areas, listed buildings and/or your local authority simply not liking dormer conversions in their council policy. We take care of all of this for you and advise you accordingly depending on where your property is situated.
On the plus side, mansards can be built to look amazing and there are many options to choose from. Like the sides can be built in brickwork to match the existing property. Skylofts offer both old London Stock bricks as well as new London Stock bricks depending on your choice and budget. Or you could have tiled sides, stepped in slightly to make the Mansard look less obtrusive.
Mansards are often seen to be built up in brick sides to match the existing bricks on the parapet walls. But this can only be achieved through planning permission as you will be building on the party wall.
Other options include choosing to have small dormer windows, or french doors built within the face of the mansard.
The options are endless and Mansards really suite the original properties of the Victorian era.
The Mansard Construction 
When your rear mansard conversion starts, the first thing installed will be the structural floor including steels and timber floor joists. Once completed, the old roof at the back will start to be dismantled and removed so the mansard can be installed. The mansard, depending on the size can normally be installed within a few days ready for the insulation and weathering from the outside. The insulation is a very important factor when considering a to convert your loft conversion.
Every loft company will spec there own insulation details. Some will be in excess of building control requirements. Whilst others will be right on the breadline between a pass or fail.
Lofts Can Use Many Types Of Insulation: 
Soft Insulation – Rockwool and EcoTherem to name a few. Great for internal walls and floor insulation as they have an impressive sound barrier between habitable rooms.
Ridged Insulation – Recticel and Kingspan have great U-values and come in many different thicknesses for different parts of the loft surfaces.
Head Height
With all loft conversions, a minimum of 2.2 meters is required to achieve a rear mansard. This is to avoid the need to explore alternative options like lowering ceilings and rebuilding the whole of your roof.
If you are considering a loft conversion then please contact SkyLofts on 01252 500 872 or email info@skylofts.co.uk for more information.